RUSSELL OILFIELD EQUIPMENT COMPANY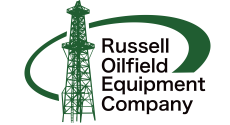 Woodhouse International offers a full range of aftermarket drilling equipment spare parts from RUSSELL OILFIELD based in Houston.
Russell Oilfield manufacture replacement parts for Drawworks (these parts include drum shafts, clutch carriers, bearing boxes, shim sets, brake systems, and drive sprockets) , Catheads, Rotary Tables, Rotary Swivels, Traveling equipment, Triplex Gear End and Triplex Fluid end, Goosenecks, Wash pipe cartridge assemblies, swivel rings and much more.
The replacement parts are directly interchangeable to the Original equipment manufacturers such as National, Oilwell, Ideco, Gardner Denver and Continental-Emsco.
A significant inventory of parts is held at our facility in Jebel Ali (Dubai) to service the region.